THE GRAPEVINE
World Race Gap Year Team 2018
Dasia Olivares – Las Vegas, Nevada
Hellllooo all you beautiful wonderful exquisitely magnificent human beings!!!!! Being here in Heidelberg has taught me a lot. I've enjoyed the abundant hospitality by the sweet people of this town. I've found extreme pleasure in getting to know, pray for, and share the gospel with all people, especially those that live on the streets. It's changed my life. Given me fresh eyes, and given me the privilege to see people as people. One day, as our team of 12 and I were walking through the township across town, I stumbled upon a rainbow picket fence in which I saw a few women teaching a class of little kiddos. I felt led to pray over the powerhouse women that the Lord was telling me they were. After some distractions we never got to go into the preschool. The following week, we went back to the township. With freedom in where we could go and what we could share, I asked the group I was with if they wanted to go back to the rainbow picket fence. We walked over there and after some small talk with the woman that works at the preschool named Petro, we were immediately welcomed in with open arms. Hospitable & sweet. With all of the freedom to share the gospel with kiddos age 1-5. To love them well and play with them was a pleasure but what meant most to me was when we each prayed over the kiddos and the 3 women that worked there. Praying endurance and strength and perseverance over them. It was sweet. We also prayed over the kiddos that they grow up knowing they're loved and cherished and delighted in by the creator of the earth, sun and the stars. That they're strong and free because of JESUS! It was a sweet, sweet moment which opened doors for us to go and love and serve the preschool WHENEVER we wanted. Heidelberg has been an extremely sweet time & I've loved the ministry and amazing people we've gotten to know and love. Phil & Tanya have been insanely amazing hosts and I'm blessed to have gotten them as family the last few months. Here's to friendship and family-ship (hahaha) for all of eternity!!!!!! Hallelujah!!!!!!
Josie Dehlin – Dulles – Virginia
Heidelberg has been one of the most beautiful seasons. The incredible thing about living with Tanya and Pastor Phil is that they are truly and honestly spirit lead. We have been with them for two months, and while the majority of the mornings were spent with assigned ministry, the afternoons were left open for us to choose ministry ourselves: Everyone has different skills and talents and gifts, and in the past two months we have all had the opportunity to find our niche. One of my favorite parts of ministry was Ryan's house. There was only one baby for the majority of our stay, but we still showed up every morning. We swept and mopped, and spent hours talking to the woman who is running it. She had a much bigger impact on me than I did her, I'm positive. She showed me what it looks like to walk by faith and not by sight. She shows confidence in the Lord and loves like I hope to. No way in the world would I trade or  change my time in Heidelberg!
Catherine Webb – Georgia
My experience in Heidelberg has been filled with life long memories. One of my favorite memories would have to be while walking to the spar right down the street and running into a homeless man. His name was Samuel. We did not speak the same language, but we worship the same God. After a simple pack of bologna and a loaf of bread, his eyes filled with tears and he praised the Lord. He began to say that Dasia, Kaylee, and I are now like his daughters and he loves us. We then asked if we could pray for him and he proceeded to pray himself, thanking God. We gave him a hug and it was like he hadn't been hugged in years. This impacted me and I'll carry it with me forever thanks to Heidelberg, the small town with big hearts.
Zachary Yoder – Ohio
My most memorable moments in Heidelberg will always be spending time with our hosts and friends from the church and Bible College. The generosity of my new friends in Heidelberg is not like anything I have ever experienced before. I will never forget all of the memories made while ministering here.
Kaylee Stephens – Georgia
Hello im Kaylee i'm 18 and from Georgia. I've absolutely loved being here in Heidelberg so much. We've gotten to help out at the church lots and the school. I help a lot at the preschool and love it. I love the kids and the teachers and the environment. We have gotten lots of ministry opportunities here. One of my absolute favorites has been children's ministry. One of the first days we arrived so many little voices were in the backyard. We went out and played with them for such a long time. We Have played with these kids almost every day since we've been here. I truly love being able to teach these kids in simple ways. I truly will miss them. Heidelberg is such a generous town and so many warm hearts are living here. I've loved it!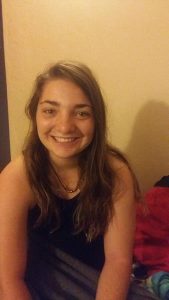 Alina Stumbris – Wisconnsin
Heidelberg has been such a huge blessing. Phil and Tanya are truly great examples of Godly people. Tanya, she is sweet and motherly, and truly has a servants heart. One of the very first nights here Tanya and I did dishes together and she was already pouring out into me. We shared parts of our testimonies; she proceeded to give me words of encouragement. I could tell from that moment that her heart was filled with undying love. Phil, what a guy. What a blessing. I asked Phil what his favorite memory with us has been and he jokingly said "when we go to bed at 10." But then he ended up explaining that every single team is so unique, but specifically we have been so refreshing, full of energy and passion. Phil and Tanya have been huge blessings, I have endless thankfulness for them.
Dakota Chance – Georgia
I have really enjoyed my time here in Heidelberg with Phil and Tania and serving alongside LCF! It has been great to build relationships with everyone here in the Bible college and church, and I'm actually gonna miss everyone here a lot they have became people I consider family! Quick tip for all of the new teams coming in, if you want to have a second service after church on Sunday just go to the Spar… Half the congregation will be there! But yeah Heidelberg is a great place, you're gonna enjoy it! I loved Ministry in the township the most, I seen God move in many big ways there in hearings and salvations and I've also built good relationships there too!
Kara Murray – Washington
These past 2 months in Heidelberg have taught me a ton. This community & church showed me what true hospitality looks like, it's refreshing to be surrounded by people with such passion, and a blessing to serve along side people on fire for the Lord.
Matt Collman – Maryland
My time in South Africa was phenomenal, courtesy of Phil and Tanya. Ever since we arrived here in Heidelberg, Phil and Tanya took interest in us, poured into us, made us feel comfortable and at home. They made this a family environment, and they genuinely care about each and every one of us. Their caring, nurturing nature has been incredible, that of which I am so thankful!
Kendall Adams – Texas
My time in Heidelberg was really sweet. Every day was a different adventure. One day, I was having a really hard time and was sitting outside the church alone crying. Tanya walks over and sits with me while I cry for a bit, and then hops up and declares "we're going to do toilet ministry!" So we went to into the bathrooms and fixed broken toilets. It's one of my favorite memories here because it was one of the first few moments I got to connect with Tanya, and her and Phil have just been so kind and so loving to me.
Noah Larkin – Colorado
They call Heidelberg "The Gateway to Heaven" and it's possible because of how beautiful it is in every way, but more likely it's because of the saints alive an active here. Heidelberg has no shortage of people on fire for the Gospel and they have poured into us as well as received us with such grace. We have had the pleasure of doing ministry with them and have seen first hand the fruits of the Spirit here in this town.
Kate Paulson – Colorado
Kate: Hey! I learned so much in Heidelberg. One of the most impactful things I learned was the importance of intentional and consistent kindness. From providing my team with dinners to taking us on the best adventures, the generosity of this church will continue to affect the way I live my life and seek to follow the lord.
Lucie Van der Pyl – Christ Church – New Zealand
Heyyyy I've spent 2.5 weeks here in Heidelberg and woooooow it's been the most fun. Phil and Tanya have a phenomenal ministry and I can honestly say I have never felt more welcomed into a community so quickly. The atmosphere that Phil and Tanya have created is the most open, kind and spirit led and it was the most wonderful to be a part of it. Really the church here delights in serving others and building up the body of Christ. One of my favourite memories was chiki time with Tanya. We set up the tents in the backyard, we all hung out and it was suuuuper fun. Seriously Heidelberg is the greatest place in South Africa with the best streets to skate everrrrrrr.